Welcome to TPCS LTD.
TURNERS POWDER COATING SERVICES - PLEASE READ OUR TERMS & CONDTIONS!
THE COMPLETE REFURBISHING SERVICE FOR BIKE & CAR WHEELS - AND OTHER CAR & BIKE COMPONENTS. ENSURE THAT YOU READ THE TERMS & CONDITIONS CAREFULLY!!!!!!!!!!!!!
***** THE LARGEST ITEM WE CAN DO IS: 1.3 MTR WIDE - 1 MTR LENGTH - 1/2 MTR DEEP. *****
ESTABLISHED 1 MAY 2010
Galleries are on the menu bar on the left. Scroll down and have a look at our galleries, T&C'S and more.

---------------------------------------------------
Email us at:
Emails answered at weekends as well.
CONTACT US TODAY!!
Please read all the terms & conditions to ensure an easy transaction.
IMPORTANT CUSTOMER COLLECTION NOTICE!!!
Collections need to be arranged between 8:30am - 2 pm to avoid recollection charges for you the customer. Please provide us with details of collection.
----------------------------------------------------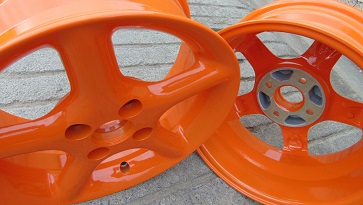 About Myself:
My Name is Steve Turner, and many of you, know me or will have dealt with me in the past. For 27 years I was employed at Dymag Racing - ultimately, as General & Production Manager responsible for the process of producing wheels and spare parts - however, as many of you may be aware, Dymag sadly ended production in late 2009, so I now have my own business within this specialist area. With over 35 years experience.
Over the years at Dymag I gained all the necessary experience in the appropriate care and maintenance processes required for Magnesium Wheels and I now provide a Professional Powder Coating Service for your Magnesium or Aluminium Alloy Bike or Car Wheels and associated parts. This also includes Carbon Fibre Motorcycle Wheel Centers and Steel Wheels.
Alot of people tend to think that the process takes weeks but the average set of bike and car wheels take a week at the most to powdercoat. There is the occassional instance where wheels may take an extra couple of days due to stubborn paint removal etc. or if we are unusually busy.
-----------------------------------------------------------------------------------
We are on FACEBOOK as well.
This is what happens when a refurbisher doesn't know how to treat Magnesium.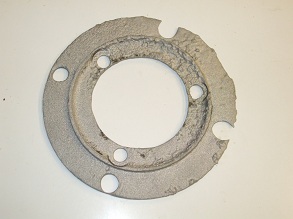 --------------------------------------------------------------------------------------------------------------------------
My service does not simply encompass refinishing your wheels or items - but also the installation of new bearings etc. - with my aim always being that when we return your wheels or items to you, they will appear as ''near new'' condition as they can be. I am equally happy to refurbish other parts too - including sprocket carriers, yokes, brackets, rocker covers, and unusual items etc. - and you can find more details in the pricing guide page.
I am also very happy to help with any aspect of motorcycle wheel sizes and application questions etc., so please feel free to contact us for a quote for items not listed in the pricing guide, along with any queries regarding my service.
Those of you that have already worked and dealt with me will know I have always given an honest and professional service to all my customers and will continue to do so. I am very pleased to have seen not only many returning customers now using my services, but also many new customers who have been passed to me by recommendation. I look forward to being able to help you and provide you a professional service.
Company Directors are:
Steve Turner
Sandy Turner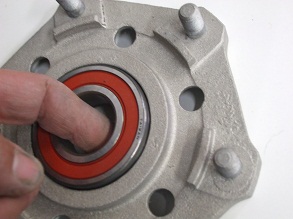 As you can see the bearing wall was worn too big due to the incorrect process.